Car Wars
Enthusiasts say police are targeting their modified creations; cops deny crackdown
4/22/04
NEWS-PRESS STAFF WRITER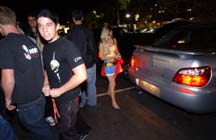 Car enthusiasts who tool around in hopped-up Hondas and souped-up Subarus have put a new spin on the modern gear-head classic "The Fast and the Furious."
But local cops have been fast to put the brakes on these modified creations, and the teens and 20-somethings getting busted are furious about it.
The issue came to a head at a recent car show at Earl Warren Showgrounds, prompting the mayor to promise to investigate and threatening a major car show that brings thousands of BMW fans to town.
What the recent show also uncovered, say the car enthusiasts, is a trend among local police to target automobiles with race-car modifications. Police counter that these motorists are being stopped for the same violations applied to every other driver on the road, and that there's no crackdown taking place.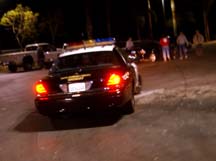 More than 1,000 people attended the Norcal vs. Socal event on April 10 that showcased several upscale European car models such as BMWs and Porsches. Some claim they were unjustly targeted by police for having souped-up automobiles. Santa Barbara police issued about 40 citations for violations. Police concede that they did have a "high-profile" presence because they were not familiar with the show's promoters and contacted them to let them know about it.
The police presence turned off upcoming auto-show promoters, who told city officials that they would take their business elsewhere if authorities didn't rev down.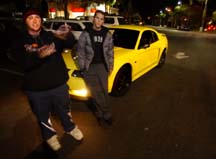 Enthusiasts ranted in chat rooms about alleged profiling, and an online petition entitled "Norcal meets Socal Car Show Injustice" is gathering signatures to protest the alleged police mistreatment. As of Wednesday, nearly 700 online signatures had been collected. Photographs of motorcycle cops lined up outside the venue and others of police apparently pulling people over made the rounds on various car club Web sites.
In an e-mail to several concerned auto enthusiasts, Mayor Marty Blum said she would look into the matter. That official response helped put the brakes on the cancellation of the May 1 Bimmerfest car show, reportedly one of the largest in North America.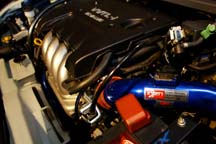 "(The enforcement) definitely raised a lot of concern over Bimmerfest," said Jon Shafer, the founder of the event. "A few of our BMW guys started putting fear into everybody, telling people that they'll get a ticket if they come to the show and that Santa Barbara had an anti-car culture sentiment."
California Highway Patrol spokesman Don Clotworthy said there has been an increase in enforcement of modified vehicles, but he could not provide any numbers. Authorities say recent training has played a role in the stepped-up enforcement for illegal modifications, but there is no program making racing-inspired modifications a priority.
> Earlier this year, county sheriff's deputies, city police and CHP officers specializing in traffic control took a four-hour course on how to spot illegal parts, ranging from a loud exhaust pipe to disconnected emission-control systems to tinted windows.
"It's difficult to say we get to pick and choose which parts of the vehicle code we'll enforce," said Deputy Chief Richard Glaus. "Our job is to enforce the law."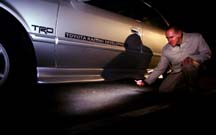 "Import tuners," that's what fans of modified Japanese cars call themselves. Last Friday night, a crowd of more than 40 car enthusiasts, ranging from their late teens to mid-20s, gathered at the Goleta In-N-Out, a regular meeting place where they get to show off their "mods," hang out with other car modifiers and talk shop.
About 25 modified automobiles, mostly Japanese imports, lined the parking lot at about 10:30 p.m. Their owners, some who have spent up to $20,000 to replace their wheels with lighter versions and replaced the regular springs and struts with heavy-duty race components, were huddled in groups. Only a handful of cars had expensive paint jobs in this crowd.
"We don't care what's on the outside; it's what's on the inside that counts," said one enthusiast. "We're not Pep Boy mods."
But on this night, the hot topic wasn't poseurs but the increased police enforcement. One car modifier passed around a copy of the Vehicle Code on exhaust noise limits -- usually one of the first modifications car tuners perform.
Adam Lewis, 22, the owner of a modified 1994 Acura Integra, said he has been pulled over six times over the past year -- and was ticketed twice since February -- for having modified pollution-control devices and a loud exhaust. He faces $750 in fines.
"I'm going to the referee on Monday, if it doesn't pass I'm gong to court and I'll plead not guilty because my car's legal," he said.
Away from court, many car tuners admit to technical infractions of the law, but bringing their cars up to code "is just cost-prohibitive," said one enthusiast who asked not to be named.
His car, a 1987 RX-7, had its engine illegally converted to a turbo-charged version. The cost was $700; a legally turbo-charged engine, once it met various pollution requirements, would have cost him about $3,000 or more, he said.
Modifiers doubt the cops are searching for technical violations as an end in itself. The real problem, they say, is that police believe that because they drive fast-looking cars, they will be racing them in city streets.
"(Police) are making a connection between street racing and modified cars that simply doesn't exist," said George Tokarski, a 24-year-old UCSB student.
"People don't line up on dark streets to drag-race here. The last time I even heard about a street race it was between a pickup truck and a muscle car, and I haven't seen either car since then."
They say they do like to race their cars, but this is done at official race tracks.
Organized street racing is virtually nonexistent, but there are frequent reports of isolated street racing, say police and the CHP.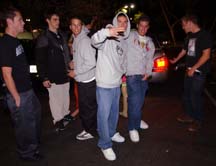 The self-described "import tuners" say they are paying a high price to keep their hobby alive.
Chelsea Taylor, 26, recently was fined $116 for an exhaust violation and had to pay $10 for illegal tinting. She put a legal muffler on and will be testing it with the smog referee on Monday at a cost of $30.
Ms. Taylor, a freelance Web site developer and founder of a Subaru car club, said her 2002 Subaru Impreza WRX is her "passion."
She has spent nearly $15,000 in suspension and engine modifications all set up to be able to drive the car faster and safer on the track, not to street race, she said.
"I understand that tinted windows are illegal, and I should be punished for breaking the law, but I don't think it gives 'probable cause' that I am a street racer and that warrants a hood pop," said Ms. Taylor. "This whole wave of police enforcement has had me pulled over twice in two weeks for that."
Police say they will continue to enforce traffic laws and pull over cars they believe have illegal modifications and ticket them if they are breaking the law.
But one man in a position to know can't help but take a wistful look at the "new" phenomenon.
"It's been a gazillion years since I was in high school," said George Adelsperger, chief of the technical services branch of the state Bureau of Automotive Repair, who recalled similar conflicts between police and young car enthusiasts in the '50s. "But things like this have been going on forever. It's just that some (modifiers) are more responsible than others.
"It's kind of like come full circle."
FRANK BOTT / NEWS-PRESS PHOTOS
Car enthusiasts gather at "the meet" Friday night at Goleta's In-N-Out Burger parking lot. Below, a sheriff's car patrols the lot. At top, under the hood of a '96 Honda Prelude, a high-performance emission sticker lets police know smog modifications are legal.
Cole Hanley, sitting on the hood of his 2002 Mustang, and his friend Adam Bordon talk shop about the import cars across the parking lot.
Scott Brenner shows off his under-body lights on his 2000 Camry. Mr. Brenner has spent $8,000 on modifications.
Stephen Maldonado checks under the hood of his souped-up 1996 Honda Prelude at the In-N-Out Burger gathering of local car enthusiasts Friday night.